Patriot's own Warrior
Tom Brady drops back, scans to his left and scans to his right.
He fires a shot to his left and finds a streaking Kenbrell Thompkins for an 18-yard touchdown pass, the first of the wideout's career against the Atlanta Falcons.
Three years ago these words were just a dream that Thompkins was chasing when he flew by himself from Miami to Los Angeles to play football at El Camino College.
"You know what we say at El Camino, 'once a warrior always a warrior," Thompkins said. "I can definitely say that I was humbled and I'm actually thankful to be a part of El Camino's tradition."
El Camino provided Thompkins with a foundation that helped guide him in his pursuit to meet his goal of one day joining the National Football League.
"El Camino helped me develop into a man," Thompkins said. "It taught me how to handle diversity and it taught me how to approach certain situations."
Along with the challenges that he faced after moving accross the country the football team's bond was something that helped the transition go smoothly.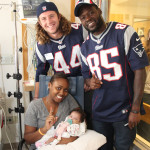 "Being part of a family that treated me so good was a humbling experience for me," Thompkins said.
Coach John Featherstone left Thompkins with memories that he will not soon forget.
"Featherstone is a great guy," Thompkins said. "I mean going out there on Monday we used to always run around in circles for conditioning and Coach Featherstone used to get out there, take his shirt off and run around with us which I thought that was pretty cool. Coach Featherstone is a guy that I will always remember for the rest of my life."
Thompkins not only left a lasting memory in the coaching staff's mind, but his play was something most won't soon forget.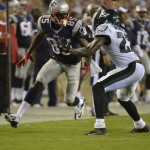 "Kenbrell is at first very shy and quiet," Featherstone said. "Boy, when he got on the field he was dynamite. He could run, he has really good hands and is very focused."
Not only was Kenbrell remembered for his on the field play he was remembered for the way he carried himself off the field as well.
"We knew he had a chance to go much further than junior college," Featherstone said. "He always had great self esteem, he knew he was good."
The football team's brotherhood and family bond introduced Thompkins to someone he will never forget when he first came to EC.
"I will never forget meeting a close friend of mine, Ken McRoyal(former EC football player)," Thompkins said. "He ended up passing a couple of years back, but that was a guy I will remember for the rest of my life. I remember when I first got out to california he was one of the first guys that I met. He was one of the first guys that became a brother to me and a guy that will remember for the rest of my life."
Along with Featherstone, Eugene Engle offensive coordinator also remembers the dominate force Thompkins was on the field.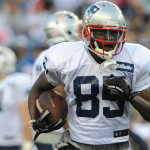 "When you first see him he is so lean and looks small, but he is strong," Engle said. "He has such raw talent that it was easy to see he was good once he came onto the practice field."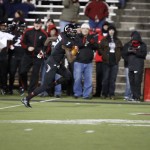 Hardwork and determination is what Thompkins believes anyone that is looking to pursue their goal to reach the NFL, but he also believes in taking pride in your school work as well.
"Take school seriously," Thompkins said. "Put school first and take pride in your craft, take pride in your work and just get up every day and be thankful for what you have and live your dreams. Nothing is impossible and impossible is nothing."