An ongoing series: Q's and A's with new full-time faculty
Benjamin Mitchell, math instructor
Q: Why did you choose EC?
A: "I've been living in Oregon and I sort of wanted to get back into living in the city. I think the number one thing was the opportunity to teach different types of math classes because that keeps it fresh."
Q: How has your transition been from living in Oregon to moving to the city?
A: "Transitioning into this job was easy, because everyone is great here. I've only had positive experiences with other faculty here and with the students. But in terms of adjusting to all the standard Los Angeles stuff like the traffic, it's been a little intense. But, it's been nice having access to entertainment and good food again."
Q: What is your focus in teaching?
A: "I definitely want them to have a good understanding of the actual ideas and concepts in mathematics. I want them to have an understanding of how to apply logic and problem solving skills not just to math problems but to their lives in general and to be able to think more rationally. Another thing is to encourage pride in their work. I give pretty rough homework and exams, so when someone does well, it means something."
Stefanie Frith, journalism instructor
Q: Why did you decide to continue your teaching at EC?
A: "I was here as a student in the late 1990s and was in the newspaper and the magazine. I was actually the first editor-in-chief when it changed names to The Union, because it used to be called The Warwhoop. I knew at some point I wanted to come back and teach here, and I got that opportunity as part-time in 2008. So when the opportunity came to work full-time, I absolutely had to jump at that chance to come back home and work with the program that gave me my start as a journalist."
Q: Tell me a little bit about your real world experience as a journalist?
A: "I worked as a journalist for about 11 years before I got my first full-time teaching job at Pierce College for five years. In my career as a journalist, I covered the California prison system, public safety, national wildfires, state education, political corruption and these are the things that I'm trying to bring forward into my classroom. I want my students to have that. So that if they have questions about how to cover a story, I know how to cover that story, because I've actually done that article before."
Q: What was your first internship?
A: "My first internship was the Gardena Valley news right down the street with Gary Kahatsu. He gave me my first internship, and I worked there for the summer and that led to another internship at Torrance Cable Access."
Yun Chu, human development instructor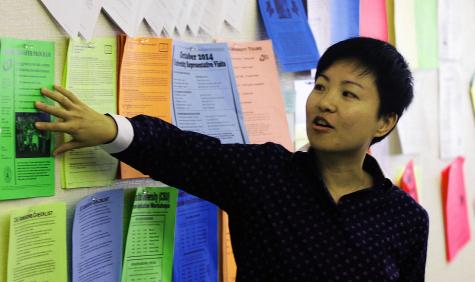 Q: Why did you decide to continue your teaching career at EC?
A: "I came from a community college myself so I really believe in starting at a community college. I also really liked the panel, the other faculty that interviewed me. We have a really supportive group of people for human development specifically, and also because it's a long-term job."
Q: What is your focus in teaching?
A: "I want to be relatable to the students and connect with the students, because I think that if the students know that you care about them, they'll try a little bit harder. They'll be more motivated."
Q: How has your transition been from studying in Hawaii to teaching here?
A: "I was there from 2004 to 2007. So those three years I was there getting my doctorate, I was teaching a lot of classes. It's been seven years since then… I went to Japan to teach English for the Japanese government. I did that for one year."